Best Western Hotels Signs Spectacular Upscale Residences at Venezia Beach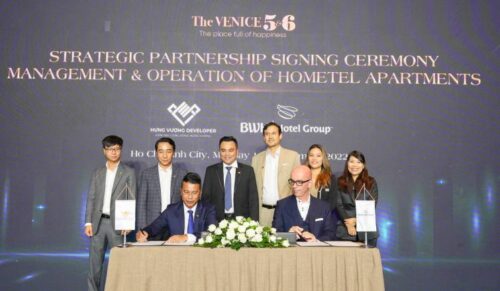 Venezia Beach, Vietnam, October 29, 2022 / TRAVELINDEX /
Best Western Hotels and Resorts
has penned a strategic partnership for two
beautiful beach apartment buildings
on Vietnam's southeast coast, as the company's rapid expansion in this vibrant Southeast Asian nation continues to accelerate.
Under the terms of an agreement signed with Hung Vuong Developer, the leading Vietnamese real estate company, Best Western will operate two Hometel beach apartment buildings and villas – The Best Western Premier Residence Venezia Binh Chau – within the brand-new coastal city of Venezia Beach. Nestled in a prime seafront setting on the famous Ho Tram-Binh Chau coastal route, just a short drive from Ho Chi Minh City, this new project will form part of a breathtaking development that will attract domestic and international travelers alike.
As part of the upscale Best Western Premier® brand, this new residential project combines exceptional architecture and premium facilities with the international standards of hospitality for which Best Western is famous around the world. Best Western Premier Residence Venezia Binh Chau will feature a total of 872 apartment-style units across two buildings and 260 villas, all fully-equipped with home comforts, kitchens and dining facilities, plus modern amenities including complimentary high-speed Wi-Fi. Unlike other developments where only the premium accommodation has ocean views, Best Western Premier Residence Venezia Binh Chau will offer sea-facing beds, balconies and panoramic vistas from all of its rooms and suites.
Guests and residents will also be able to take advantage of a wide range of onsite facilities, including a café and all-day dining restaurant, an infinity pool, a fitness center, yoga area and 3D golf simulator. A business center co-working space will cater to the growing "bleisure" market, which blurs the boundaries between business and leisure, and an onsite mini-mart will offer complete convenience.
The signing ceremony was attended by senior executives from both companies, including Mr. Le Quoc Ky Quang, CEO of Hung Vuong Developer, and Mr. Olivier Berrivin, Vice President of International Operations – APAC at BWH Hotel Group.
"We are delighted to sign this agreement with Hung Vuong Developer to introduce Best Western Premier branded residences to this dynamic destination. Venezia Beach is a stunning development that will transform the tourism landscape in Vietnam. Joining the Best Western network will help The Venice 5 & 6 to stand out in an increasingly competitive marketplace, including being part of our global loyalty program, Best Western Rewards®. We look forward to collaborating with our partners as we bring this outstanding property to life," said Mr. Olivier Berrivin, Vice President of International Operations – APAC at BWH Hotel Group.
Vietnam is one of Best Western's most important Asian markets. The company currently operates three properties in the country – Best Western Premier Sonasea Phu Quoc, Best Western Premier Sonasea Villas Phu Quoc, and Best Western Premier Sapphire Ha Long – with at least six new hotels and resorts scheduled to launch nationwide by the end of 2023. These new openings will introduce more of Best Western's 18 diverse brands to Vietnam, including Best Western Plus®, BW Premier Collection®, BW Signature Collection® and Executive Residency by Best Western®, as well as additional Best Western Premier properties.
For more information about Best Western Hotels & Resorts in Asia, please visit www.bestwesternasia.com
About Best Western Hotels and Resorts
Best Western Hotels & Resorts headquartered in Phoenix, Arizona, is a privately held hotel brand within the BWH Hotel Group® global network. With 18 brands and approximately 4,500 hotels in over 100 countries and territories worldwide*, BWH Hotel Group suits the needs of developers and guests in every market. Brands include Best Western®, Best Western Plus®, Best Western Premier®, Executive Residency by Best Western®, Vīb®, GLō®, Aiden®, BW Premier Collection®, and BW Signature Collection®. Through the acquisition, WorldHotelsTM Luxury, WorldHotels Elite, WorldHotels Distinctive, and WorldHotels Crafted collections are also offered. Completing the portfolio are SureStay®, SureStay Plus®, SureStay Collection®, and SureStay Studio® franchises**.
* Numbers are approximate, may fluctuate, and include hotels currently in the development pipeline.
**All Best Western, WorldHotels and SureStay branded hotels are independently owned and operated.