Chef Henk Savelberg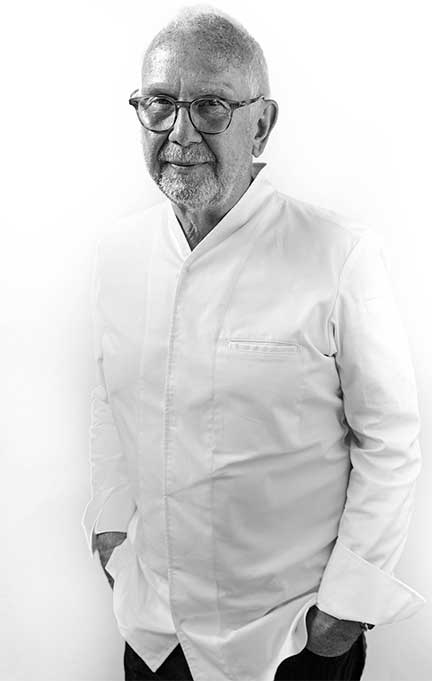 Henk Savelberg is a Dutch chef, owner of the renowned restaurant Savelberg in Bangkok (Thailand). He is the only chef from the Netherlands awarded a Michelin star in five different restaurants. Henk Savelberg is one of the founders of Les Patrons Cuisiniers. He joined other well known chefs: Maartje Boudeling, Paul Fagel, Constant Fonk, John Halvemaan, Cees Helder, Toine Hermsen, John Kern and Emmanuel Mertens. The aim of Les Patrons Cuisiniers is to enhance the culinary level and to pay more attention to the kitchen staff while strengthening friendship ties among chefs. In 2003, Henk Savelberg was knighted by the Queen of the Netherlands with the Order of Orange-Nassau.

Was it your decision to become a chef conscious or did you fall into it?
I was very young already interested in cooking. My father knew someone working in a restaurant looking for help, I was only 17 years old. I started working and did many different and all the required tasks.

What are some emerging food trends that you're noticing?
The innovative techniques and trends started from El Bulli, a restaurant near the town of Roses, Catalonia, Spain, run by chef Ferran Adrià and driven by the culinary ideas of Albert Adrià.. Since then everyone is trying to create new things.

What's an emerging ingredient that you're using a lot of these days?
The trend is definitively on vegetarian food, which comes with a number of challenges for more traditional chefs. At my restaurant I try to use as much as possible local ingredients such as crab and Thai clams to integrate them with my cuisine.

What would you cook at home if you were just making a laid-back dinner?
I like to prepare fish, not overcooked and meat balls with vegetables. First thing I always look for first when I go to a supermarket is fresh vegetables.

What's the difference between running a restaurant in Holland and running one in Bangkok?
Communication in running a restaurant in Bangkok is the main challenge as I don't speak or read Thai and things can get complicated if communication is not flowing. For ingredients, there are more seasons in the Netherlands allowing me to combine different ingredients according to the season. That's also the reason why I always travel to explore and find new and unique ingredients. It's always hunting for best and freshest ingredients! Working with Thai people is different than with Europeans as there are more employees in general and more women in particular working in a kitchen in Thailand.

Do you source as much local produce as possible for each restaurant and does this have a big impact on the menu?
For a number of reasons I can not always use local produce. When I find nice ingredients in Europe, I bring them to Thailand to allow my patrons to experience different tastes and flavors.

How is people's relationship with food different in South East Asia?
People in South East Asia, and in Thailand in particular, have a special relation with food; they love and appreciate excellence in a dish, can it be a simple, local fare or a tasting menu with international flavors.

Is there one dish that sums up your style?
There is one dish that I have prepared for many years, the Grilled Turbot. In the Netherlands, when people go to Savelberg, they always ask for the grilled turbot.

Will any of the dishes you discovered recently be making their way onto your menus?
I'm constantly innovating and trying out new dishes with new ingredients. Once a have an idea of a new dish and before it makes it to the menu, we'll try it out for several weeks with my team, making improvements and changes along the way.

If you had to move somewhere other than Bangkok, where would you go?
If you ask me, maybe Korea or New Zealand because of the extraordinary, natural environment.

Do you try out dishes on your family or friends?
Not on family and friends but in my restaurant with my entire team.

What do you think the most important qualities are in a young chef?
They have to be eager and have a strong will to learn. A young chef needs discipline and perseverance to never give and to continuously keep improving and acquired skills.

What do you think about chefs like Gordon Ramsay, who have taken haute cuisine to the masses via reality TV?
Reality TV chefs had a positive impact on the perception of cooking, fine dining and culinary excellence. Viewers got keen to learn about quality food, how to prepare and how to cook it. They also got insights and what it means to be a chef and to run and manage a successful restaurant.

What's the one cooking tool that a Chef should not be without?
Knife!